The "Uyajola 9/9" team yesterday caused chaos on the streets of Limpopo.
Uyajola 9/9, a show where disgruntled lovers confront their cheating partners, yesterday streamed an interesting episode which became one of the top trends on social media platforms.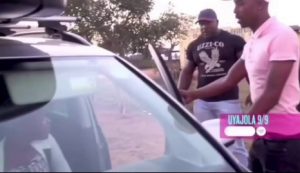 Emmanuel suspected his girlfriend of cheating on him and requested Uyajola 9/9 team to assist him.
When Emmanuel was confronted with proof of his partner's infidelity, his emotions ran high such that he went wild and threw stones all over hitting the blesser's car who his girlfriend was cheating him with.