Media personality Pearl Thusi has landed herself in hot water because of her sharp tongue on social media.

Pearl Thusi recently went offside during Jill Scott and Erykah Badu's Instagram live. The two were having a battle in the verzuz series of Instagram live song battles.

All turned sour when Pearl Thusi who was also watching said,"I wish I could powder Jill".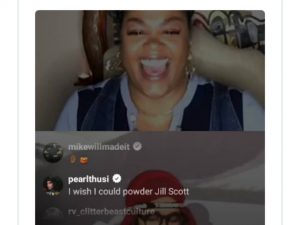 Viewers caught the live comment and decided to call out the Queen Sono actress for failing to filter words coming out of her mouth.

Many social media users felt that the actress was being mean for no reason. It is claimed that the likes of Michelle Obama were watching the live.

Thusi told Jill Scott that she had a shiny face. Now the actress is under fire for bringing negative vibes on the platform.