Kelly Kahumalo took to social media, Twitter to swear on Ntokozo and everyone.
She did not receive any award at SAMAS while Ntokozo received 3 awards.
She captioned "Fuseg Nonke, Angunesabi nonke FUSEG!, Arranged winnings FUSEG".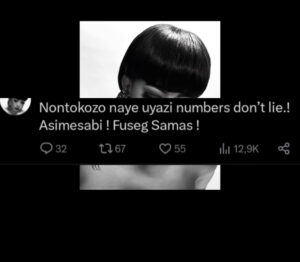 She even went on to say "Nontokozo naye uyaz numbers don't lie, Asimesabi! Fuseg Samas".