Masechaba Ndlovu who is the spokesperson for the Department of Sports, Arts and Culture Ministry has landed in hot water again for sharing a distasteful video about coronavirus.
This is not the first time that she has landed herself in trouble. First it was when she mistakenly announced the number of people who are infected with coronavirus saying these were the death toll.
In an attempt to create awareness on the now deleted tweet that people should wash their hands, sanitise and wear their masks, she shared a video of Valdo and Lindo. She also posted the video on her Instagram page.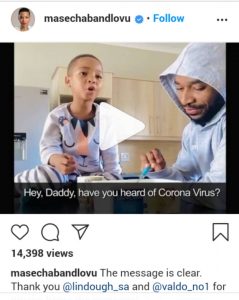 However the video came across as distasteful and racist to many people. The two used Chinese accent to relay the message.
As the Minister's spokesperson, Masechaba was bashed for promoting such content as if she was promoting racism.
Meanwhile, many people on Twitter urged the Minister of Sports Mthethwa to call her to order. They also advised her to leave such information on coronavirus to the Ministry of Health.