Black Coffee announced through his investments company Flight Mode that he is officially one of the major shareholders of the renowned record label Gallo Records.

Black Coffee took to Twitter to announce that he has acquired a stake in the record label Gallo Music Group.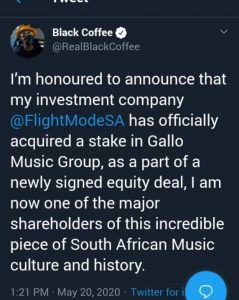 Gallo Music Investments (GMI) which is now owned by Lebashe Investment also expressed their excitement on Twitter. They are happy to have Black Coffee joining their family.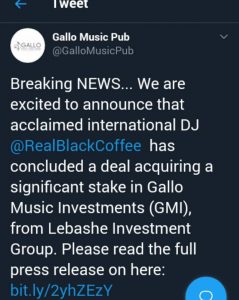 Black Coffee revealed that he was inspired to venture into music because he grew up listening to the sounds of Miriam Makeba, Oliver Mtukudzi, Victor Ntoni, Splash and Rex Rabanye who were all part of Gallo Records.

Gallo's catalogue also includes music from Solomon Linda, Lady Smith Black Mambazo, Lucky Dube, Mahlathini and the Mahotela Queens and many other legendary artists.

Black Coffee revealed that he was not going to take any leading role in running the company even though the stake he acquired is enough for him to sit with the decision making body.
His ambitions was to change history that has been so terrible when it comes to to local musicians in particular the story of Mahlathini.
The DJ also said he wanted to create a legacy that will live on even after his death. Black Coffee also added that he hated a situation where a successful musician will be buried using money that has been donated by fans.