The body parts that were found in the Protea Glen backyard flat of MBA student, Flavio Hlabangwane, have been identified as those of Tshepang Reabetswe Pitse.
Tshepang Pitse was a cousin to Flavio although they were living together as husband and wife.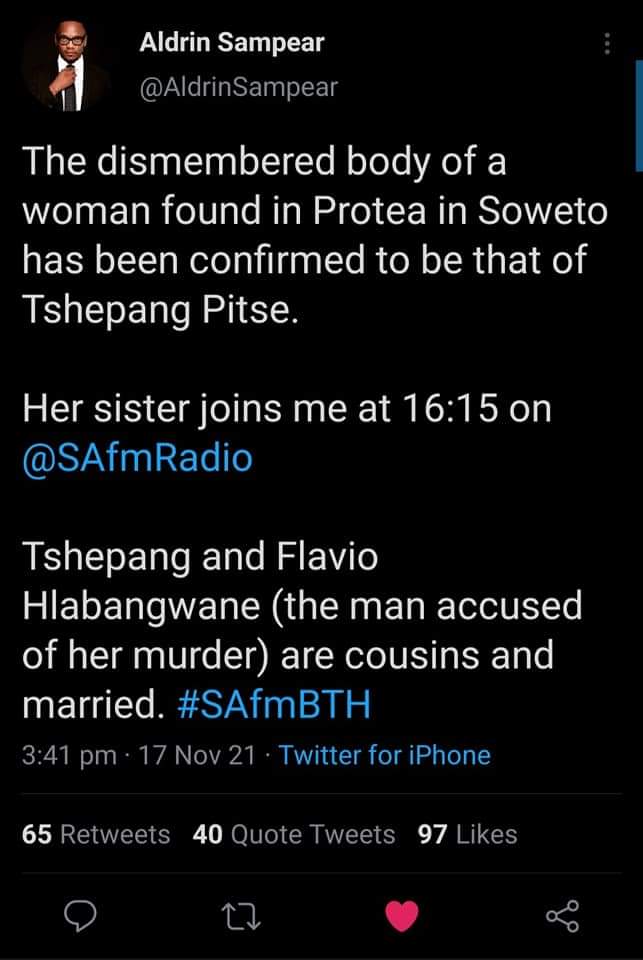 SAFM host Aldrin Sampear tweeted:
The dismembered parts of a woman found in Soweto has been confirmed to be that of Tshepang Pitse.
Her sister joins me at 16:05 on @SAfmRadio.
Tshepang and Flavio were cousins and were married.
Circumstances sorrounding the discovery of Tshepang 's body were set out in a police internal document to have been as follows:
Good afternoon General
JHB District Soweto West: Protea Glen
OB791
Cas 175 /11/2021 Murder
Victim unknown female
2021/11/13 @ 11'30
Suspect. Flavio
Hlangwane of 23290 Orange Street Protea Glen wxt 27
Scenario.
It is alleged by informant a FeMale age 22 , a student at UJ that she is the girlfriend of the suspect.
She arrived with suspect and stayed overnight with him.
At 11.30 the next day, she requested for food and suspect went to buy some. When he was gone she opened the fridge and discovered black plastic bags and one contained a human hand.
She got help from a neighbor Captain Kubheka of FCS Moroka. The Capt also checked and verified that they were body parts therein.
Two hands from the shoulders and two legs from the knees .
He arrested the suspect in his arrival as per P/glen sap14 no 63 /11/2021. The suspect stabbed himself in the neck but is in a stable condition.
He was removed to Bara hospital under police guard. Forensic are at scene at pi present.
Exhibits : found as per Protea Glen Sap13 /1151/2021 , 2 x suspects cellphones, 2x Laptops , 1x black knife , a female I D card of Tshepang Reabetswe , who is alleged to be a girlfriend who was renting a backroom with the suspect.
She is from Pretoria at unknown location and was last seen in the past two weeks by the Landlord and her next of kin or relatives or her whereabouts unknown at this stage . The rest of the body not yet discovered. All the role players visited the scene.