Limpopo born artist Makhadzi Muimbi has just announced that she has signed what could be the biggest brand deal in her career so far.
The songstress revealed a weak ago that she had a dream about how she would become a millionaire.
She shared that she had met a prominent entrepreneur for business talks and promised  a big announcement when the details were ready to be shared.
The Matorokisi hitmaker took to her Twitter account to announce that she had signed a mega deal with Kick Sports Wear.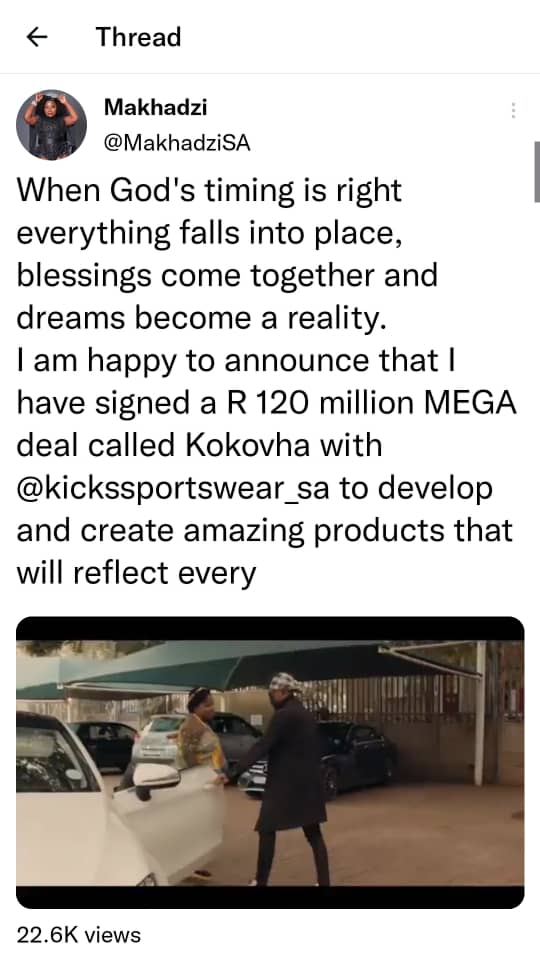 The campaign will be called Kokovha and it is aimed at creating, developing and promoting a new line of product which according to Makhadzi will align with her personal beliefs and principles.
Congratulations to Makhadzi Muimbi.
When God's timing is right everything falls into place, blessings come together and dreams become a reality.
I am happy to announce that I have signed a R 120 million MEGA deal called Kokovha with @kickssportswear_sa to develop and create amazing products that will reflect every pic.twitter.com/iqad9bR1Kd

— Makhadzi (@MakhadziSA) November 9, 2021